Well, Not sure where to start, not even sure where July went.
It was turbulent time with my Mom and I think the rickety bridge that was there has fallen and perhaps it fell in the depths in the Earth and put on fire.
Its Hot!! When each day the temps have been hitting about 100, then add the heat degree index. I think the old saying has to be true, its not the HEAT, ITS THE HUMIDITY. When you walk out side it feels like a giant puppy dog breathing on you (probably Clifford). The drastic change from being in an air conditioned environment then walking outside is like Ape scent gorilla slapping you in the face. Showers don't take. Sure you shower and get rid of sticky stinky sweat and for the first 5 minutes when you walk out of the bathroom you feel so revived and fresh...then the feeling
fastly
fleets. I am sweating in places I did not know you could even sweat at!
lol
I am sorry when I say this But I could bear winter much better then summer. Once your naked and hot..there is nothing else to take off. During winter, if you are still cold..just pile more clothes or blankets and drink something hot.
The Garden is a
pooper
this year. Sure, my herbs did fine. My tomatoes not so much..and maybe just not as good as I had hoped and wanted. With the wicked weather late in spring then these demanding oppressive temperatures things have just flopped. Maybe too my heart was not into as much...and maybe too that I bought some rotten producers. I thought for sure I would have had tons of tomatoes by now. But Mr. Stripey is a big deceiver. Sure he gets real big and bushy, but then most of his blooms fall and want little is producing is slowly getting eating by bugs. Then there is the German Queen...
hmmm
I have another select name for her.
the tomatoes that are doing the best for me is my Grape tomato plant and my Cherokee purple. oh and a tomato plant I did not even plant, it just came up all on its own. I think it a
Campari
Tomato.
So, Now I have been picking my tomatoes even though that they are not ripened and put them in brown paper bags to mature. At least this way I know I grew it for us and not the bugs outside.
Not to be a total whiny butt, so something
positive
now. the cucumber produced way above and beyond what I had hoped and expected. I found a great recipe for a Cucumber & Avocado soup. Sounds so refreshing and delightful. However, by this time last year I had already a couple batches of gazpacho and not one batch yet.
With the excessive heat appetites have slowed down. Even by the kids. I have had a loaf bread that has almost lasted a week!! Wow!!
Tonight for dinner however I am making salad
Nicoise
. The Heidi Way/
It is going to be such a sexy meal too!! I love taking fresh ingredients and combining the flavors.
So, I ventured over to the next town over to pick up some yellow fin tuna steaks.
came home and got to work on prepping. Now the vinaigrette is traditional, but the serving will be different plus I added in my own flare of flavors that I love.
First...
Marinated the tuna in
Evvo
and salt/pepper
got started on the
cannellini
bean salad
. this is the part of course that is not traditional, but this is where my "tomato" part of the salad will be found.
Cannelllini
beans
fresh maters diced
couple of table spoons of purple onion minced
Fresh Basil
Fresh Italian flat leaf parsley
Evvo
Lemon juice
crumbled Parmesan
salt
pepper
then for the Potato and Green bean part
again, made a salad like.
Fingerling red potatoes boiled briefly
green beans blanched
4 small scallions diced
then mixed with vinaigrette
Vinaigrette
Evvo
Lemon juice squeezed
Fresh thyme and Rosemary
tablespoon of minced shallots
Dijon Mustard
there will be Baby arugula and Boston lettuce dressed very lightly as they will wilt when the Hot grilled tuna is put on. A small serving of cured black olives.
Good Music...A glass of Vino.
Life is Good.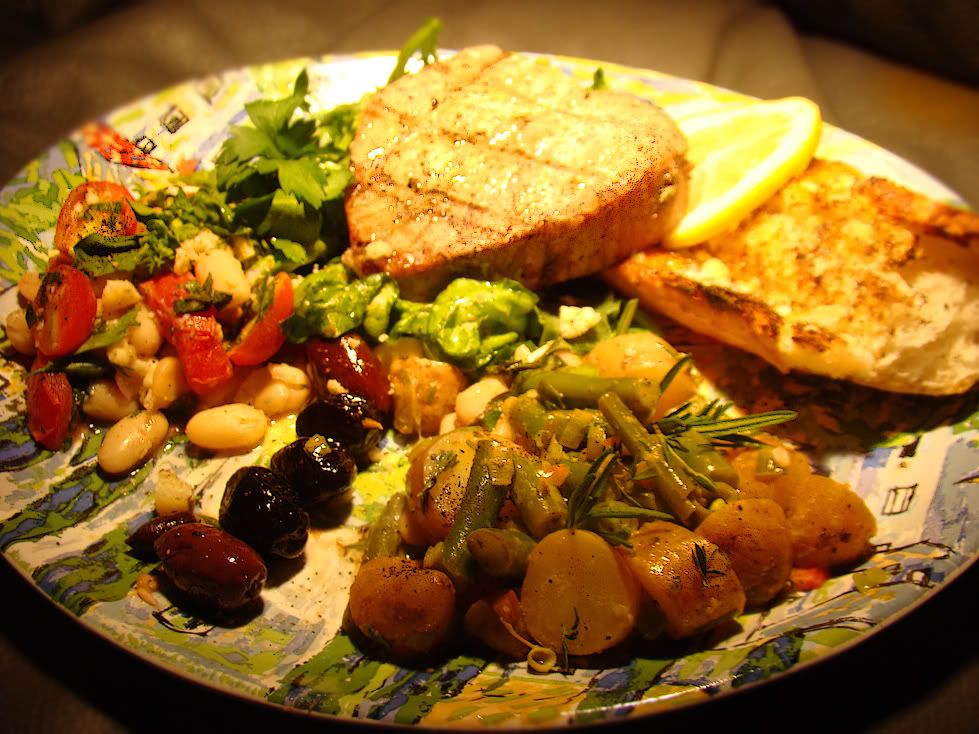 the break down of this fine and wonderful meal. I know the Meal sounded
extravagant
, but it came in at under 7 dollars a head. for 6 servings it cost
6.41
2.00 2 cans if Cans
cannellini
beans
5.00 Good Aged
Parmesan
cheese
2.00 4 lemons
2.50 Fingerling Potatoes
1.50 Fresh
Green
Beans
3.50 Arugula
2.00 French loaf
18.00 yellow Fin tuna 6 Steaks
I did not include the Olive oil or olives. Most of the time anyway these are staples we have on hand, even lemons and parmasean. Was just out this day.