Wednesday, June 27, 2007
I enjoyed this...thought you would get a kick out of it
Posted by

CraBBy GaBBy
at 2:02 PM

Sunday, June 24, 2007
Greetings!! Well, it has been almost a couple of weeks since I have posted. So what is going on? Well, I just finished up an order. It is by far one my most favorite patriotic dolls I have ever made.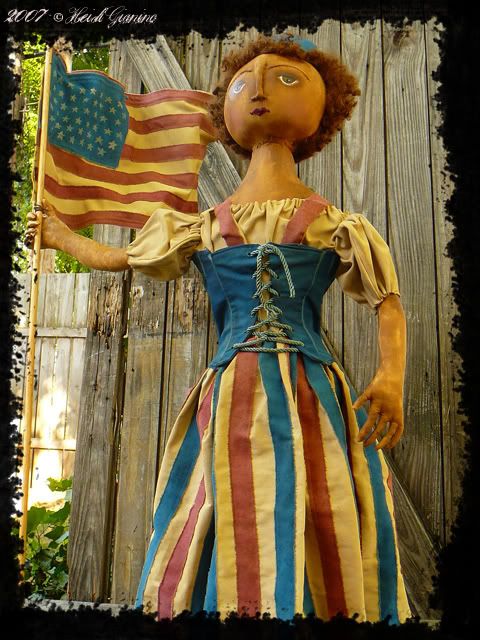 I have been working on 3 new pattern releases..soon to be out. I am thinking the middle of next week.

And moving foward in life. There for a while I fell into somewhat of a depression..I was looking at everyones' outside appearances and assuming that everyones' life is perfect, except mine. That is a lie. No one has a perfect life. Happiness is a state of mind and you just have to grow were you are planted. This is what I told myself....

So I ask you this..is the GLASS HALF EMPY? OR HALF FULL?
I think I am gonna have to say half full..All I think I need to be reminded from time to time

I look foward to blogging more in the future. Until then praying for you the most heartfelt blessings overflowing in your life ~~
With Much appreciation for your support
Heidi
Posted by

CraBBy GaBBy
at 1:31 PM

Thursday, June 7, 2007
Greetings..Well, before you know it Halloween will be here. The Pfatt Market Place is doing a BIG Halloween in June, with tons of door prizes to be given away..I even have a door prize too!
These Tag Pockets are great for gift giving! They Measure in at about 10 inches a piece and filled to the brim with fragrant sweet anne and dried lavender. Features antique hallloween images and wording. I have added 3 eyelets to each one, threaded with rusty wire for hanging and accented with a rusty jingle bell. Each individual one will come gift wraped, with a blank piece of aged stamped paper for you to write a note on plus 1 witches brew nubbie candle, for you to wrap your note around. These truly are little gifts all on their own with their presentation. $27.00 value.
I have also Made a Very Primitive Folk Art Witch from a Kentucky Primitives Pattern
But on Ebay I have listed an original..and she is a hoot.!!
Come Visist Me!
on Ebay
Or The Pfatt Market Place (gets updated the 10th of every Month)
Posted by

CraBBy GaBBy
at 3:17 PM